An ambitious roadmap
SPARTA establishes a strategic research and innovation roadmap to stimulate the development and deployment of key technologies in cybersecurity and to retain digital sovereignty and autonomy of the European industries.

SPARTA Roadmap serves as common ground for the alignment of research, education and certification priorities of the European Cybersecurity Competence Network.
Communicate your challenges and take part in shaping future European research!
Emerging challenges
SPARTA roadmap also contains an open-ended list of emerging challenges. For the first version of the roadmap this list includes User-Centric data Governance, Autonomous Security for Self-Protected Systems, Trustworthy Software.
In a second iteration of our roadmap process, we also added three new challenges: Quantum Information Technology, 5G Security and Next-Generation Computing Architectures.


Inputs are collected from interested parties from industry, academia and governmental institutions. It is developed in concert with national and European research agenda (e.g. ECSO) and is structured following the European Joint Research Centre's taxonomy for Cybersecurity.

Research programs are continuously spun from strands of the roadmap, led by experts of their fields, and aim at generating concrete and transformative results.

SPARTA created four programs extracted from the SPARTA Roadmap at the beginning of the project and feeding it with new challenges and ideas.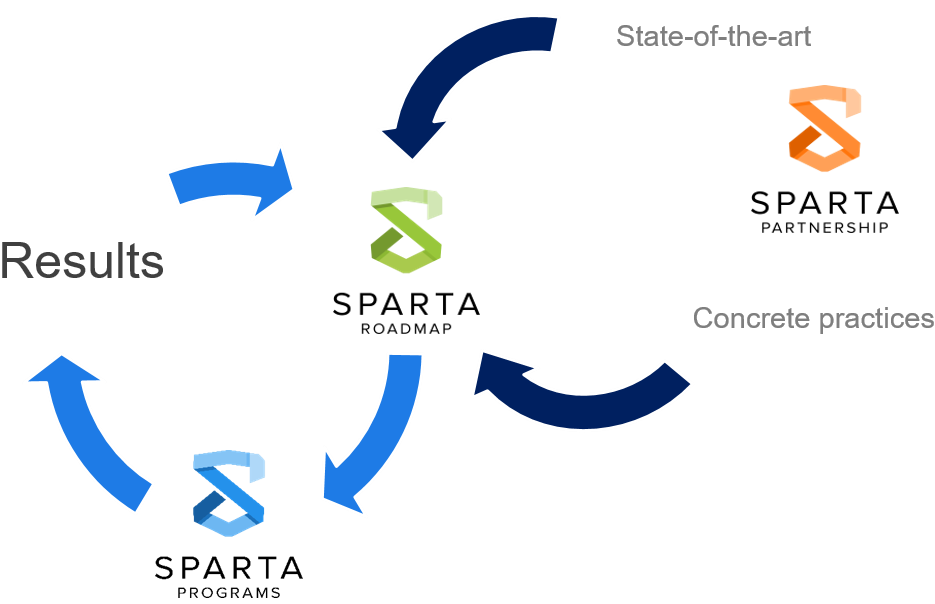 Roadmap Timeline
2022

Certification Organization and Support

2024

Education and Training in Cybersecurity

2025

Assessment of Complex Dynamic Systems of systems

High-Assurance Intelligent Infrastructures

Security and Safety Co-Assessment

2026

Secure and Fair AI Systems for Citizen

2027

Comprehensive cybersecurity threat intelligence

2029

Trustworthy Software

2030

User-Centric Data Governance

Autonomous Security for Self-Protected Systems

Quantum Information Technology

5G Security
Certification Organization and Support

2022

Education and Training in Cybersecurity

2024

Assessment of Complex Dynamic Systems of systems

High-Assurance Intelligent Infrastructures

Security and Safety Co-Assessment

2025

Secure and Fair AI Systems for Citizen

2026

Comprehensive cybersecurity threat intelligence

2027

2029

User-Centric Data Governance

Autonomous Security for Self-Protected Systems

Quantum Information Technology

5G Security

2030